Surrey v Sussex
Whilst the argument about the validity of the shocking defeat to the Ladies at Haywards Heath rages on, our intrepid heroes made their way to Bramley Golf Club to take on Surrey. How would they fare in the rolling parkland, gentle slopes and lightly wooded apple trees? Would it be a cobbler, a crumble or a victorious pie? Read on, dear reader.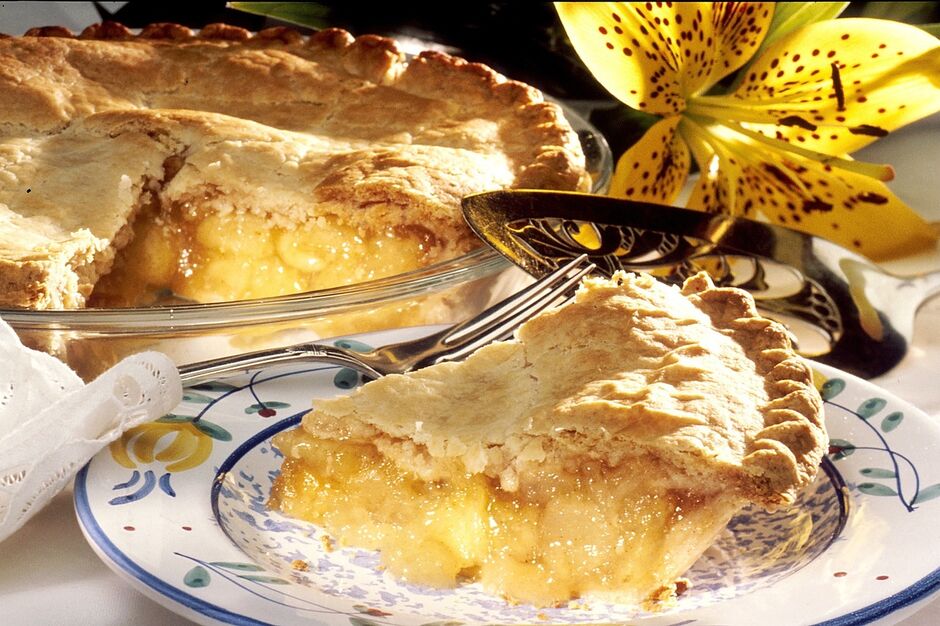 Ma tch One
Nigel Wates and Niall Addison looked a banker against Stuart Rollings and Jeremy Trevethick. Great opponents who had (they claimed) a particularly good day playing below their handicaps. Nigel played spectacularly well but not good enough to carry his partner. What a cobbler. Lost 3&2
Match Two
Ian Potter (Captain) and Alan Butcher (Bramley Golf Club Member) took on the Bramley Captain, John Ledgard and his vice, Graham Horn. This was a very close match played in great spirit. Ian finally turned up on the 16th; there were no halves until the seventh. It was a lovely match and great fun. The Sussex pair crumbled. Lost 3&1
Match Three
Kieran Laverty and Keith Talbot faced a three-handicapper in Dai Bader and Mike Wickings (not quite so good). With Dai and Mike starting par, birdie, par (that's what the shots are for. Ed) Kieran and Keith felt they were in for a slaughtering. However, we fought back and managed to hang in there. For the record, Dai (the previously mentioned three-handicapper) had six 3's and a two in the first 14 holes! The match continued being closely fought until Mike Par'd the 17th to close out the game. We really enjoyed the Surrey players' company, but not so much their brilliant golf. The Sussex pair were stewed. Lost 2&1
Match Four
Nigel Powell and Tarzipan Ward baked Richard Walker and Martin Brebner. It looked as though Surrey would run away with the game. They were three up after four holes, but it was back to all square at the turn. The match continued as an even contest, and we stood on the 18th tee all square. A gentleman's half was offered and declined, which got Tarzipan's dander up. It is some time since this has happened. Anyway, we proceeded to win the 18th and take the match One Up.
Match Five
Bryan Munday and Tim Ingram took on Roger Yong and David Yabsley. This was a tight match, with Surrey taking an early lead. Sussex clawed it back, and by halfway, we were edging ahead. The sausage rolls at the halfway house helped! But with holes running out, Sussex held on to a slender lead, with the last three holes halved. What a turnover. Won 1 Up.
Match Six
Andy Lamb and David Kemp sought to make mincemeat of Paul Gidden and Jimmy Gribben. A fast start put us two up, but we were soon one behind with honours even at the turn. It was nip and tuck with never more than one hole in it. A superb bunker shot on 17 saw Sussex go one up; they halved the 18th to win 1 Up.
Match Seven
Terry Vanhinsbergh and Steve Dillamore turned over Andrew Wolstenholme and Colin Keith. Terry was so pleased to be giving a total of 41 shots and even more pleased when the Surrey boys opened with a net birdie closely followed by a net eagle. We were two down early on, but Steve's burst of pars on the back nine ensured the tarte tartin came out the right way up. Won 3&2.
Match Eight
Rasoul Shahilow and Peter Snook were given the pip by Chris Luke and Alan McWilliam. Sadly, Ras played the opposition on his own for most of the game. They played very solidly. so his efforts were in vain. The course was in good nick but wasn't one of my favourites; it gave me the pip. (Enough with the Apple Puns; jack it in. Ed) Lost 3&1
Match Nine



Keith Hayward and Steve Tigg faced Andy Mudie and Ravi Patel. This was a great game; it went to the 18th. Andy played so well over the back nine, getting every putt. We struggled but did not give up; we were two down with two to play before Keith birdied 17 and parred 18 to halve the match.
Match Ten
Mick Grimes and Simon Watts pastried (OK, I'm struggling now. Ed) Nyren Scott-Malden and Nigel Smith. A titanic struggle ended on the last putt on the last hole as Grimesy remembered why he was there by paring the last two holes. Won 1 Up.
The final score was Sussex 5 1/2 - Surrey 4 1/2

So the Apple Pie goes to Sussex with a solid away victory. In the matches against the men's teams, we remain undefeated; versus the ladies, not so much.
Next up, we take on the rapscallions of Kent at Cooden Beach.