Haywards Heath Centenary Event
---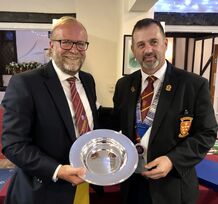 When the Sussex Golf Captains were asked to consider a joint event with Haywards Heath Golf Club to celebrate their centenary, we jumped at the chance as we have always enjoyed a great relationship with the club, and many of their past captains are great supporters of our organisation. In fact, we have held our annual match against the Sussex Lady Captains there since 1975, and our Professional's Day was held there from 1975 to 1986.
It was decided to play a shotgun start team event where three captains would play with a Haywards Heath past captain or official with the best two scores to count and all scores to count on par 3's.
After a jolly gathering and a bacon roll, the teams departed to their starting tees for a 9 am shotgun. There was some trepidation as the weather forecast after such a long hot spell looked like thunderstorms and lightning was imminent, and an amber warning was issued by the met office. However, all 19 teams started dry, and although there were indeed heavy downpours, the lightning stayed away.
The winners with 106 points were Team Cottesmore comprising of Terry Vanhinsbergh, Mick Stacey and Martin Bolton Smith, accompanied by HHGC past captain Peter Snook.
Second with 104 points were Team Pyecombe. Gary Hann, Andy Selsby and Cahel Logan with Mitch Clark of HHGC.
Third with 101 points were another team from Cottesmore, Trevor Pigram, Paul Young and Malcolm Holmes, with Martin Hubbard of HHGC.
Fourth with 100 points were Team Willingdon with Ken Penfold, John Court and John Maynard with Phil Keerie as their HHGC Captain.
Nearest the pins for the guests were won by 7th Pat Coghlan (Brighton & Hove), 9th David Gillies (West Hove), 10th Ronni Schrevel (Cooden Beach), 17th Des Malcolm (Dale Hill)
A splendid buffet lunch was served as the skies darkened and rain poured, making all the competitors feel relieved that they were off the course!
The prize giving (and the breakfast welcome) was conducted by Martin Jones, Club Captain of Haywards Heath, who was assisted by our President, Ian Jaggard. Captain, Joe Angella thanked HHGC on behalf of the members for their hospitality and awarded the club a salver commemorating their important milestone.