Spring Meeting and AGM
The Spring Meeting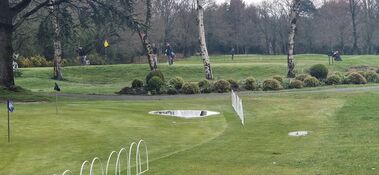 Following a frantic week of weather watching, we got the season off to a great start with Spring Meeting. The greens staff at The Nevill worked miracles to get the course ready to play, and I am sure we would all like to pass on our thanks to everyone who made it happen.
We come to the Nevill every year, and they always put on a great show. It is A nice reminder that Spring is on its way, and the long, drawn-out winter is sailing off into the depths of history (Shut up and get on with it. Ed).
As for the competition, it was a tightly fought affair with three groups on 43 points. The winners were Guy Kent and Trevor Haegar, with Nigel Powell and Trevor Pigram in second and Mitch Clark and Sean Nolan in third. Of the five nearest the pin prizes, two of them went to Keith Hayward!
Here are some random shots of the day.
If anyone has pictures of the day, please send them over.
What makes Sussex Golf Captains stand out is the warmth and camaraderie shown by all the members, and none more so than after we have all been on a long break. When you throw in a good golf course, bacon rolls and lovely lunch it is no wonder this meeting is so popular.
The Annual General Meeting
Joe Angella (Captain) introduced the meeting. He advised that apologies for absence would be posted on the website.
It is traditional for the Captain to give his report on the year. In doing so, Joe thanked everyone for selecting him as your Captain; he said it was an honour and a privilege to serve in the post. He also talked about the changing environment in clubs and asked captains to use their influence within their clubs to remind them of our role in Sussex Golf. Last year we returned £100,000 to Sussex Golf Clubs. He also asked the captains to encourage 'missing' club captains to join us. A fuller report will appear on the website.
This year's meeting was full of hello's and goodbyes.
Everyone gave a warm welcome to your new Captain, Ian Potter.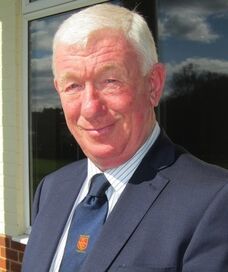 And Andy Plowright and Keith Hayward were appointed as our newest Committee Members.
Meanwhile, Keith Talbot and Mark Terry retired from the Committee, and we said a fond farewell to our outgoing Patron, Dave Harmer. Captain Ian reminded us of everything Dave has done for Sussex Golf; we will miss him. The room gave him a standing ovation as we presented him with something to put in all those Sussex Golf Captains glasses.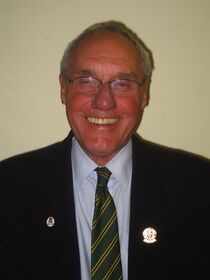 Having stood down from the Committee, Mark Terry has agreed to act as our Patron. This position is the only office within Sussex Captains Mark has not held, a feat that is unlikely to be repeated.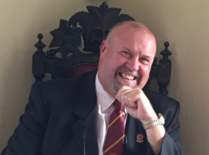 With that, the meeting closed.