Cambridgeshire v Sussex
Last year, Cambridge came down to Crowborough Beacon and scored a surprise victory against an undefeated Sussex team. It was a hard loss to take. How would we fare on the away leg?
It is worth noting that this time Cambridge worked a flanker by moving lunch forward an hour. As one team member commented, "That's not lunch; it's second breakfast." It did mean an early start for some of the players. Our Captain was heard to comment that the only time he gets up that early is to shift several pints of Harveys from his internal plumbing.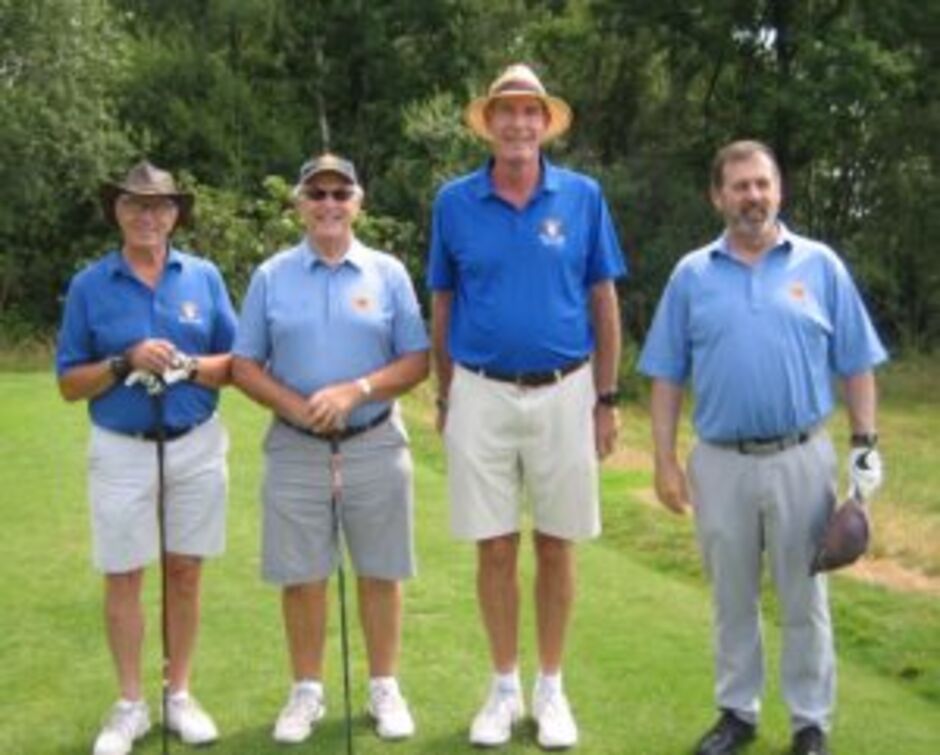 As no one thought to bring a camera to this match. here is a picture from last year's game!
Match One
Ian Potter (Captain) and Brian Street (President) took on Brian's old adversary, Stuart Watson (Sec) and Terry Cripps. It was nip and tuck over the opening hole before Ian decided to join in on the tenth. Things went downhill for Sussex, who were pleased not to lose seven and six (How much is that doggy in the window? Ed). Lost 5&4
Match Two
Nigel Wates and Andy Plowright had a terrific battle against locals John Davies and David Francis, who had two net one's on the Par Three's. John and David were great hosts. We would have gotten lost many times if John had not told us where to go. Not to blow our own trumpet, but our better ball score was -5. Won 1 Up.
Match Three
Andy Lamb and Tarzipan played David Creek and Graham Locke. The Sussex pair gelled from the start, hamming and egging all the way round. After going One Up on the first, we were never behind with the opposition looking bewildered at Wardy's sense of humour (They are not the only ones. Ed). From being three up and coasting, we were clawed back to one before a win on 17 secured the victory. Won 2&1.
Match Four
Peter Snook and Phil Manser played John Taylor and Alan Wood. Sadly, the opposition proved too strong, with John using his shots well and Alan's local knowledge proving decisive. Peter and Phil failed to ham and egg, more scampi and chips. The company was very friendly, and there wasn't too much rain. Never mind, onwards and upwards. Lost 3&1.
Match Five
Ivan Parnell and Richard Bevan were beaten by Steve Kane and John Fuller. Richard was a one-man band for many a hole. Steve and John interlinked when it mattered; a three-foot putt completed the second win for the home team. If I say so myself, I should be dropped for the next match. Lost 1 Down.
Match Six
David Sinden and Richard Jays played Ray Smith and Tony Leigh. Richard's four birdies outplayed Ray's two. Five of the six birdies came in the first eight holes. Everyone found the back nine more difficult, but David's half on the 16th clinched the win. Won 3&2.
Match Seven
Trevor Haegar and Mickey: "Where's my diary?" Grimes had a very competitive but friendly game with Hugh Carlisle and Chaz Vincent. We dovetailed to the maximum point; we were one over gross after 15 holes, resulting in a 5&3 win.
Match Eight
Colin Grant (match Virgin) and Peter Brookshaw tried very hard against Roger Tacq and Lyn Griffiths, but we weren't good enough and went four down after nine. However, we did manage to take the match to the 17th before losing 2&1.
The final score was 4-4 an honourable draw
There you have it, a close match against a Cambridge side with several home team players. We didn't manage to get revenge for last year's defeat but it was a close run thing.
Next up, Surrey Golf Captains at Bramley.